CORMA is a cooperative located in the Maresme region comprised by 24 producers. It covers a total production area of 100,000 m2, with greenhouse crops representing a 42% of the total production and outdoor crops a 58%. 
We produce 12 million plants per year of 880 different species (more than 9,000 displays).
- Horticultural and culinary plants

- Cacti and succulent plants

- Aromatic-medicinal plants
Behind each plant, there is a human team that comprises the production team, the sales team, the logistics team, etc. That's why, behind each plant, there is a story.
To get to know our plants better, you must know the people growing them.
| | | |
| --- | --- | --- |
| |           | |
| MIGUEL LLOVERAS | | JORDI PIERA |
| Speciality: Seasonal plants | | Speciality: Seasonal plants  |
| Location: Sant Andreu de Llaveneres | | Location: Tiana |
| | | |
| --- | --- | --- |
| |           | |
| JAUME PITCHOT | | PERE SALVAT AND MARÍA SALVAT |
| Speciality: Carnations | | Speciality: Seasonal plants |
| Location: Premià de Dalt | | Location: Teià |
         
CARLES PUJOL

JOSEP Mª DUÑO AND ALEIX DUÑÓ

Speciality: Mediterranean shrubs and climbing plants.
Speciality: 

Vivacious plants and shrubs

 
Location: Vilassar de Mar
Location: Vilassar de Dalt
| | | |
| --- | --- | --- |
| |           | |
| FERRAN AND LEONARD SABATER | | DANIEL MASARNAU |
| Speciality: Shrubs | | Speciality: Shrubs |
| Location: Sta Eulàlia de Ronçana | | Location: Argentona |
         
GENÍS VINYALS

JAUME SERRA

Speciality: Seasonal plants 

and aromatic plant

Speciality: 

Nerium

 
Location: Cabrera de Mar
Location: Premià de Dalt
| | | |
| --- | --- | --- |
| |        | |
| JOSEPA CAÑELLAS AND JAVIER URIARTE | | JAUME CALAFELL |
| Speciality: Seasonal, green and climbing plants | | Speciality: Seasonal plants  |
| Location: Vilassar de Mar | | Location: Argentona |
         
NENÉ MARISTANY

ÀNGEL MORENO

Speciality: Succulents and Tillandsia
Speciality: 

Vivacious plants 



Location: Vilassar de Mar
Location: El Montseny
         
OSCAR ORTEGA AND TERESA OLIVER

XAVIER GAXAS, JORDI GAXAS AND JORDI GAXAS

Speciality: Seasonal plants
Speciality: 

Succulents and seasonal plants 



Location: 

Dosrius

Location: Premià de Dalt
         
JOSEP Mª LLANAS

JOSEP Mª VENDRELL

Speciality: Aromatic and seasonal plants
Speciality: 

Shrubs 



Location: Premià de Dalt
Location: Tiana
         
ANNA VINYALS AND JOSEP COLOMER

PEP ITXART

Speciality: Small lantanas
Speciality: 

Chrysanthemums 



Location: Premià de Dalt
Location: Vilassar de Dalt
         
DAVID AND CARLOS GABERNET


JAUME VILA

Speciality: Strawberries
Speciality: 

Potted seasonal plants 



Location: Cabrils
Location: Teià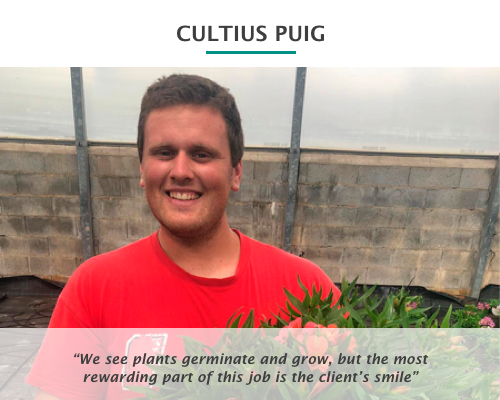 RICARD PUI
G

Speciality: Seasonal plants and Mediterranean shrubs
Location: Vilassar de Dalt